Booking Your Appointment
We prefer that all appointments get booked through our online booking site, Massage Book. Please click the button below to do that. You will then select your session type, session length, and therapist, based on availability. Any client may pre-pay for their massage when they book through Massage Book.
All new clients must be booked and paid in advance.
Be sure to include your email address so that you receive the health intake forms and appointment reminders. Intake forms need to be completed prior to your appointment. Appointment reminders can also be texted to you if you provide your phone number.
If you cannot book online, please text (preferred) or call 419-259-2987 (Anna) or 419-889-8785 (Andrew) to schedule your appointment.
---
Day of Your Appointment
On the day of your appointment please make sure that you have filled out your intake form that was sent to your email address. Because we book appointments to account for deep sanitation between clients, arriving more than 5 minutes early is not recommended. If you did not pre-pay for your massage through Massage Book, please be sure to bring a credit or debit card as we are a credit card only clinic. If you want to pay with cash, please bring exact change as we do not keep cash at the office. We do accept your FSA or HSA debit card or checks. Payment apps such as Venmo, Cash App, Zelle, G Pay and Apple Cash might be accepted by your therapist. Please check ahead of time to see if that is an option for you.
---
Parking
Parking for Massage Bliss is relatively easy and convenient. Street parking is the easiest and most affordable way to park. Suggested street parking is outlined in green on the map below. The cost is $1 per hour, and you can pay with coins, credit card, or with the Parkmobile App, depending on the meter. Note that there might be a surcharge when using a credit card or the app. Paid parking is enforced by the city between 8am and 6pm weekdays, and there is a two hour time limit. Parking after 6pm and all day Saturday, Sunday and holidays is free. Surface lots are also shown on the map, but are recommended only as a last resort due to price.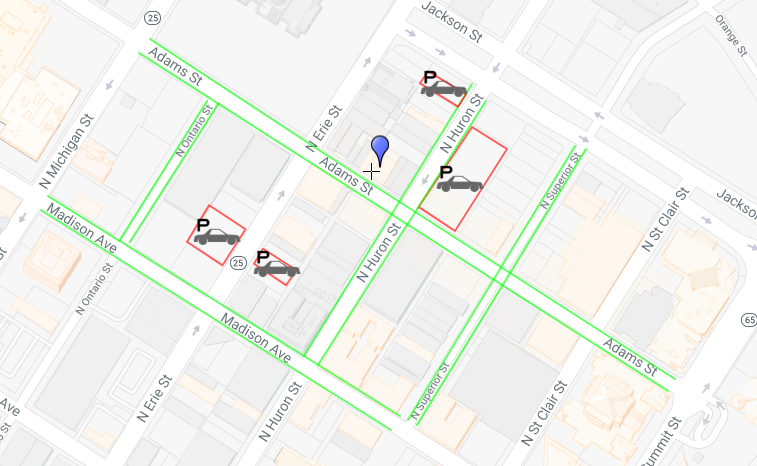 ---
Your Session
All massages are performed by therapists licensed by the State of Ohio Medical Board. Your massage will take place in a private room. Your therapist will give you time to prepare for your massage. You will be asked to undress down to your comfort level. You may keep undergarments on if you choose. During the massage, only the body part being worked on is exposed. If at any time you would like a change in pressure, a change in table temperature, or have another concern, please tell your therapist.
The length of your session is dependent on a variety of factors, including intake form completion not done prior to appointment, therapist consultation, client undress, and client redress. You should expect to have the rest of the time dedicated to massage and bodywork. In the event of late arrivals, regardless of reason, the hands-on time of your session may be reduced. To ensure the highest quality of service for all clients, we must maintain punctual appointments.
---
If You Cannot Keep Your Appointment
Please cancel your appointment 24 hours in advance. You can cancel through Massage Book, the email reminder you received, or by texting (preferred) or calling 419-259-2987 (Anna) or 419-889-8785 (Andrew). 
We understand that situations happen beyond your control. We also recognize that our therapists' time is valuable. To protect the fairness of those involved, we have adopted the following cancellation policy:
No

Call

/No Show –

100% charge at non-member rate

Same Day Cancel –

50% charge at non-member rate

Day Before or Reschedule –

0% charge